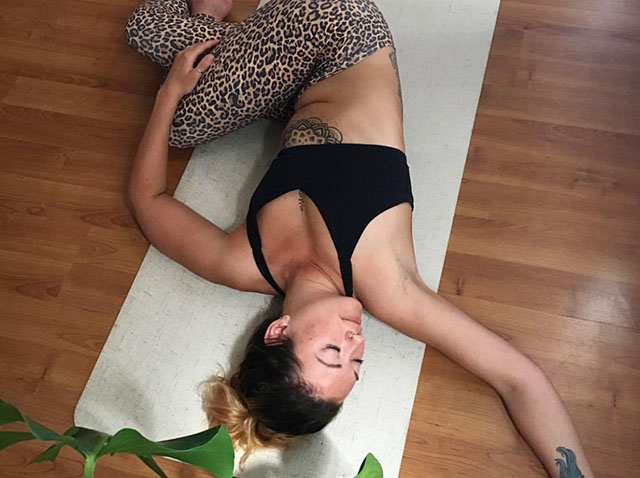 Yin Yoga Immersion with Clare Lovelace & Andrew Dowler
Slow down and touch base with your heart and soul in this 50hr Yin yoga immersion with Clare Lovelace & Andrew Dowler.
Fri 21 – Sun 23 August & Fri 4 – Sun 6 September 2020 // Investment: $1200 / Early Bird Rate $998 (pay $500 before July 15th 2020)
Yin yoga offers long held static shapes that allow you to slow down and touch base with your heart and soul. It also has deep philosophical roots in Taoism and Chinese Medicine, which work together to balance the body-mind connection in a holistic way.
Yin yoga has a slow and gentle approach to releasing fascia, the connective tissue that houses the bodies organs and muscles. It stimulates the meridian channels, which in turn brings balance and rejuvenation to the body. Yin cultivates buddhist mindfulness techniques, to lower the nervous systems stress responses, effectively returning the body to its natural equilibrium.
During this 50 hour immersion, you will learn everything you need to know to both practice & teach yin yoga. Clare Lovelace has been running this course around Australia for the past 5 years. Her teaching methodology offers a safe, accessible and informed approach to some of the more detailed aspects of the curriculum, such as Buddhism, Mindfulness, Traditional Chinese Medicine, anatomy and physiology.
This 50 hour module is the perfect bridge from a 200 hour/350hour Hatha Vinyasa training which is registered with both the Yoga Alliance and Yoga Australia. This training takes place in the heart of one of Sydney's most vibrant and eclectic suburbs Erskinville, full of cafe's and artisan foods, right next door to the beautiful Sydney Park.
This course is open to anyone that wishes to learn more about the mystery and science of Yin yoga. If you are a complete beginner and would like to deepen your own practice and enquiry, you are welcome to join this training. You don't have to be a yoga teacher to join this course.
This course is also offered to yoga teachers seeking their 50 hour Yin yoga certification, which can contribute towards yearly continued education credits, with Yoga Australia or Yoga Alliance Australia.
The training will include:
Yin handbook including class notes and class exercises
Anatomy & Physiology relating to Yin yoga
Meridian Theory and exploration of 'chi' or energy flow within Yin Yoga postures
Organ Health in Yin Yoga
Yin/Yang theory
Yin yoga sequencing
Mindfulness Meditation
Basic Buddhist philosophy
Pranayama
Modifications
How to modify for injury or pregnancy
Where & When
Union Street Yoga & Wellbeing, 175a Union Street, Erskineville NSW 2043
Friday 21st August, 6.00pm-9.00pm
Saturday 22nd August, 9.00am-5.00pm
Sunday 23rd August, 9.00am-5.00pm
Friday 4th September, 6.00pm-9.00pm
Saturday 5th September, 9.00am-5.00pm
Sunday 6th September, 9.00am-5.00pm
Find Out More